I4N Workshop in Collaboration with GAIN
I4N at Global Millets Shree Anna Conference
TATA Power Award winning Moment
About US
Our Story
IMPAct4Nutrition (I4N) is a knowledge and resource centre on nutrition. It is a business link to the
larger social movement around POSHAN Abhiyaan Jan Andolan. By running non financial engagements with corporates I4N aims to make every Indian adopt a healthy lifestyle. I4N, along with its partners, facilitates, activates and enables discussion & development for CSR and workplace nutrition.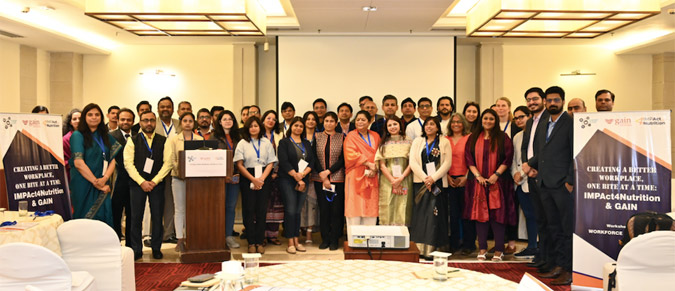 MILLION EMPLOYEES ENGAGED
MILLION INDIVIDUALS REACHED
Supporting private sector to promote importance of health & nutrition
Businesses play a critical role in improving the nutrition of their Employees, customers and extended community. By promoting good health and nutrition, businesses can increase productivity, reduce sick days and enhance economic potential. The IMPAct4Nutrition (Initiative to Mobilize Private Action for Nutrition – I4N) platform was created to encourage greater participation from businesses in the Jan Andolan for nutrition. The platform serves as a central hub of knowledge and resources on nutrition and acts as a connection between businesses and the broader social movement surrounding POSHAN 2.0. I4N has engaged 380+ businesses in India, reaching more than 4.6 million employees and their families and an estimated 100 million+ individuals with improved nutrition literacy.
Why should the public and private sector join IMPAct4Nutrition?

Good Nutrition Is Good For Business
According to the "Copenhagen Consensus", investing in nutrition is the best public health investment one can make. For every $1 of investment there is a return of $16 due to employee retention, dip in absenteeism and increased productivity.
Win-Win Investment Case For Companies
When you reach out to your employees and their families, your customers, partners and suppliers, and empower them to improve their nutritional status, you benefit your business. Being an employer who cares by running a business that is socially aware and responsible also contributes to nation building.

Direct Gains For Companies
Recognized publicly as a Nutrition Champion
Become an employer of choice
Enhanced relations with government
Unique program for your better workplace nutrition
Business development and economic growth
Handholding support and ideation for CSR program
How to get engaged with IMPACT4Nutrition

Sign the Pledge
Sign a simple commitment level pledge stating that your organization would be interested in non – financial commitment towards engaging towards good nutrition initiatives towards employees.

Engagement Calendar
I4N will support all pledge partners for development of an engagement calendar in accordance with your thematic priorities that may include our experienced nutritionists impart knowledge on good Nutrition and healthy living.

ACE Card
(Assets for nutrition, CSR for Nutrition and Employees engagement for Nutrition).
ACE card accelerates behavior change towards improved nutrition literacy and dietary habits in the work ecosystem.

TESTIMONIALS
What Our Partners Say
We are glad to be part of the UNICEF incubated Impact4Nutrition platform. At Urban Company, we are committed to ensuring Good Health & Well-being of our service professionals. Through the program, we will leverage our tech infrastructure to educate partners on what comprises good nutrition, healthy eating, and how food can help prevent and manage chronic diseases and health issues. Nutrition plays a critical role in one's health and well-being, and we want to encourage our service professionals to make the right nutritional choices.
Bhavya Sharma
Director, Communications & ESG, Urban Company
After looking at NFHS-5 data of anaemia prevalence and our on-ground observation through a small experiment, we at Organic India Foundation devised a programme called 'Anaemia Mukt Gaon', similar to Anaemia Mukt Bharat. OIF have partnered with Impact4Nutrition initiative as pledged partner and through their technical expertise, we organized a knowledge sharing session during Poshan Maah 2022, for our on ground teams, which had helped understand and implement the initiative better. As part of OIF's Community Wellness Programme, OIF is looking at villages of Azamgarh and Hamirpur districts of UP to work on ground in the benefit of adolescent girls, pregnant and lactating women.
Shravan Verma
Program Manager, ORGANIC INDIA
Our organization Spandan has also recently joined IMPAct4Nutrition with a motive to create a healthier and fitter India. The idea is at the heart to make a social impact. We believe "What goes around comes around," so Spandan commits to promoting nutrition awareness among its stakeholder in order to foster healthier economies and communities.
Sandip Dwivedi
Executive Director, Spandan Society
Hotel Association of India (HAI), the apex forum of the Indian Hospitality Industry is happy and proud to be a part of IMPAct4Nutrition (14N), an endeavour in promoting public health that is in line with the National Poshan 2.0 Abhiyan of Government of India. Aligning with the initiative also marks a responsible return to business for HAI members post the pandemic.
The Association looks forward to promoting the program across its membership and to encourage its Members to participate in a national movement. HAI members have taken many initiatives for sustainable practices in their operations and such partnership will strengthen Members' existing programs on nutrition by providing ideas, knowledge, technical expertise and aiding activation thereof. There are many ways in which the members' commitments to the broad objectives of the SDGs can be enhanced by such collaboration, like promotion of nutrition literacy & training, facilitating healthy menu changes for employees, guests and for the extended community, showcasing National Poshan Maah etc.
Mr. M. P. Bezbaruah
Secretary General, HAI
Eat sparingly- foods high in fats should be eaten sparingly like packaged ones and processed foods.
Eat moderately- foods high in protein content such as eggs, meat, cheese and other animal foods like dairy, pulses, etc should be taken in moderation.
Eat adequately- grains or food groups high in carbs should be taken in adequate amounts to help with weight gain control.
Eat liberally- foods rich in your vitamins, minerals, fiber content should be taken liberally.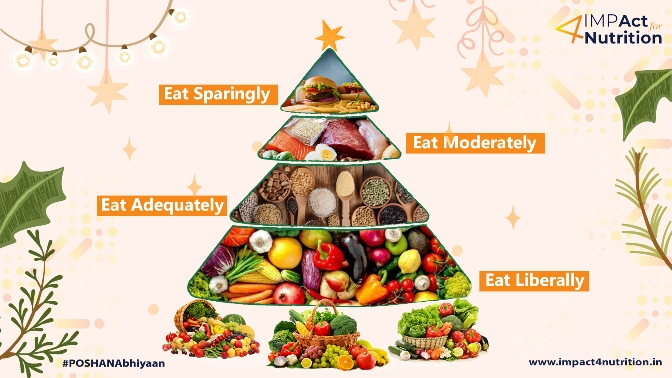 "Good Health is wealth- fill your plate with fruits and vegetables to get your daily dose of vitamins and minerals, eat adequate quantity of whole grains to get energy, consume pulses, flesh foods and milk/milk products to get protein and limit intake of fat, salt and sugar"
Fenugreek Leaves SoupTotal Time 30-35 Minutes
Serves 4
This Fenugreek Leaves Soup is perfect for anyone, especially for people with low blood sugar or high cholesterol levels. It's loaded with iron and magnesium, and helps with appetite control, heartburn and inflammation.
Ingredients
250 gm Fenugreek Leaves (Methi)
2 Tomatoes
6 Cloves of Garlic
Powdered Black Pepper
2 Teaspoon Fenugreek Seeds
4 Cup of Water
1 Medium Onion
1 Tablespoon Mustard Oil
Salt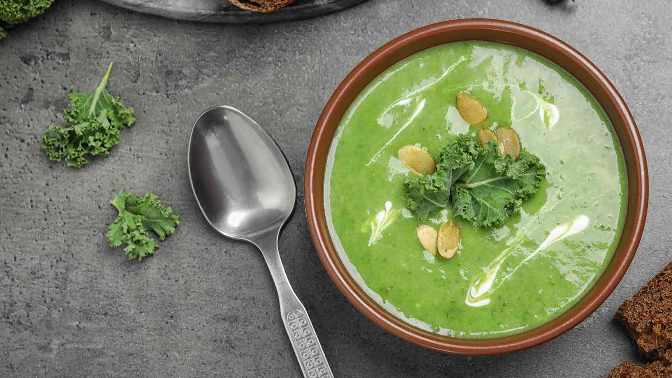 Directions
To prepare this nutritious recipe, start by taking the onion, garlic cloves and tomatoes and washing them under running water. Use a clean chopping board to finely chop the vegetables and keep them aside.
Take a pan, put it over medium flame and proceed to heat the mustard oil in it. When the oil is hot enough, add the Fenugreek seeds and chopped garlic to it and sauté them together.
Then, add the chopped onion, fenugreek leaves and tomatoes to the pan and stir-fry them for a couple of minutes till it turns slightly golden. Add water along with salt and pepper to taste and wait till it starts boiling.
Finally, turn down the flame and cook for about 20 minutes, till the vegetables are cooked. Pour lemon juice over it and mix.
Transfer the soup to a bowl and serve hot!