Poshan Ghar Vision
'Mobilize', 'Inspire', 'Motivate', 'Strengthen Commitment for Nutrition' and 'Deliver Results for Nutrition at Scale' around Poshan 2.0 Nutrition Goals
What is Poshan Ghar?
An open e-resource hub
A National coalition of partners that support to ideate and implement SBC interventions at scale to promote nutrition literacy
Link with Poshan Gyaan, IEC Warehouse and other online hubs to access and augment use of comprehensive resources on Food, Nutrition, Health, WASH in different delivery formats
Fulfils multi-sectoral approach, partnership and platform need of NGOs, CSOs, coalitions, social networks, academics, community, and volunteers, driving nutrition programming to scale with a focus on achieving results
Strengthen and integrate different aspects of nutrition into community-based programming, also across allied sectors (WASH, Education, Health)
Build connect with the business sector value chain in India as a part of IMPAct4Nutrition, by establishing linkages and synergies between businesses and Poshan Ghar members for nutrition programming through CSR in aspirational districts
Create a mutually beneficial model that will help the nutrition agenda, benefit children and enable companies, NGO's and other stakeholders in sustaining nutrition programmes within communities and catchment areas
Poshan Ghar Members
All development members and partners such as NGOs, CSOs, academic institutions, academicians, community influencers, volunteers, Individuals, UN agencies, Bi-lateral agencies, platforms, forums, social networks, consortiums, alliances, coalitions, public and private sector etc.
Poshan Ghar Membership Benefits
Access to basic nutrition knowledge
Avail Poshan training products and assets
Avail Poshan communication products and assets
Provide enhanced ability in nutrition communication activities, advocacy and campaigns
Access designs for community engagement and differential programmes for empowering communities
Access a certificate e-course on nutrition and capacity development platform (online LMS and Learning Resource Centre)
Linkages and synergies between businesses and PG members
Interaction, dialogue, fireside chats and workshops with subject experts, array of stakeholders including the government, civil society, academia, research, public and private sector partners
Provide enhanced ability in monitoring and reporting nutrition communication activity that will capture reach, change in knowledge, perception, and intent to practice
Amplification of impact stories, innovations, out of the box unique solutions, programme breakthroughs/pathways all showcased on Twitter spaces, Podcast, Physical events, Social media posting and cross posting
Poshan Ghar will bring all of this under one umbrella in a brand agnostic way to augment government's efforts in achieving the nutrition goals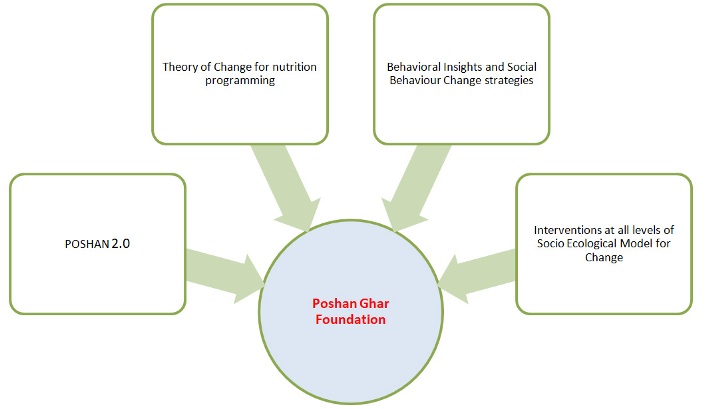 To be launched soon, keep a watch on this space for more…….