Recipe Archive
Recipe Archive
Ingredients
Besan 40g
Jowar flour 15g
Spinach 40g
Sesame seeds 10g
Oil 10g
Spices and Condiments
Garlic 2g
Jeera 1⁄2 tsp
Carom seeds (ajwain) 1⁄2 tsp
Turmeric 1⁄2 tsp
Salt to taste
Spices and condiments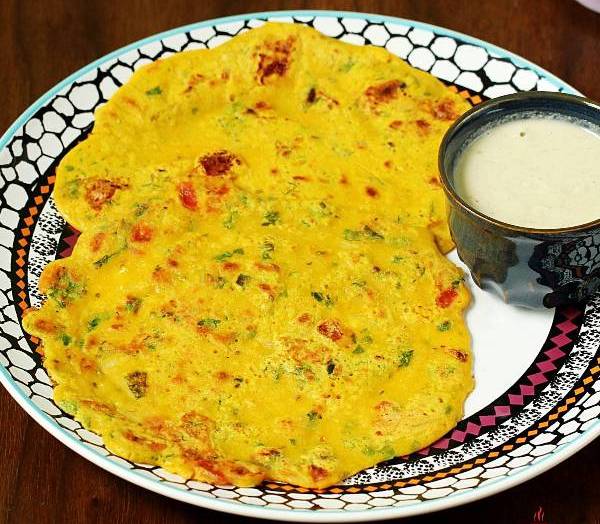 Methods of preparation:
Wash and finely chop the spinach and garlic.
In a pan, roast the sesame seeds to a light brown color.
In a bowl add besan, jowar flour, chopped spinach and roasted sesame seeds and mix them well with water to make a batter.
To the batter, add garlic, jeera, ajwain, turmeric and salt to taste. Mix them well.
Heat a little oil in a pan & pour a large spoon of batter and spread into a thick cheela.
Fry on both the sides to golden brown.
Your delicious paushtik cheela is ready to be served.
*Source : Nceard
Ingredients
Daliya 25g
Besan 25g
Milk 100ml
Sesame seeds 17g
Jaggery 10g
Methods of preparation:
Dry roast daliya, besan and sesame seeds separately in a kadahi on a medium or low heat until they become light brown. Keep them aside.
Grind the roasted sesame seeds. Keep them aside.
Cook the roasted daliya in 1 cup of water for about 10 minutes. Partially cover the kadahi.
Add milk, roasted besan and grounded sesame seeds over the cooked daliya and mix well.
Cook them uncovered for 3-4 minutes until it reaches desired consistency.
Take jaggery in a karahi and add 1/4th glass of water and make jaggery syrup.
Add the syrup in the prepared mixture and serve hot.
*Source : Nceard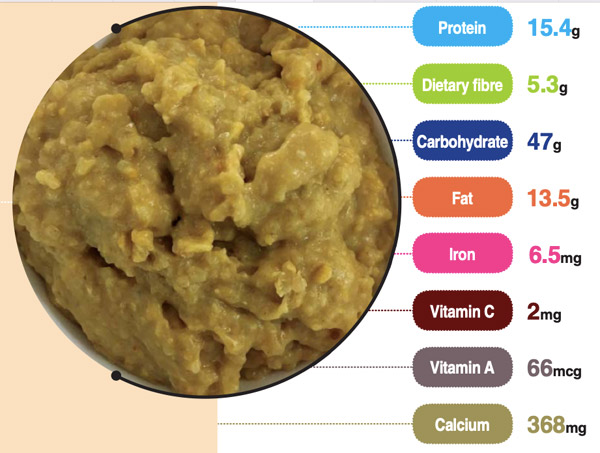 Fenugreek Leaves SoupTotal Time 30-35 Minutes
Serves 4
This Fenugreek Leaves Soup is perfect for anyone, especially for people with low blood sugar or high cholesterol levels. It's loaded with iron and magnesium, and helps with appetite control, heartburn and inflammation.
Ingredients
250 gm Fenugreek Leaves (Methi)
2 Tomatoes
6 Cloves of Garlic
Powdered Black Pepper
2 Teaspoon Fenugreek Seeds
4 Cup of Water
1 Medium Onion
1 Tablespoon Mustard Oil
Salt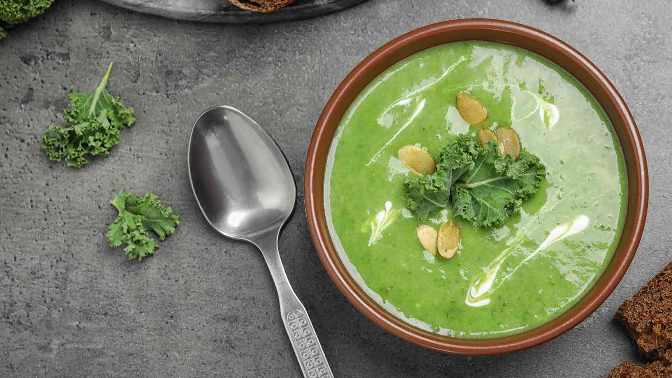 Directions
To prepare this nutritious recipe, start by taking the onion, garlic cloves and tomatoes and washing them under running water. Use a clean chopping board to finely chop the vegetables and keep them aside.
Take a pan, put it over medium flame and proceed to heat the mustard oil in it. When the oil is hot enough, add the Fenugreek seeds and chopped garlic to it and sauté them together.
Then, add the chopped onion, fenugreek leaves and tomatoes to the pan and stir-fry them for a couple of minutes till it turns slightly golden. Add water along with salt and pepper to taste and wait till it starts boiling.
Finally, turn down the flame and cook for about 20 minutes, till the vegetables are cooked. Pour lemon juice over it and mix.
Transfer the soup to a bowl and serve hot!
*Source : Chintan- (Environmental Research And Action Group)