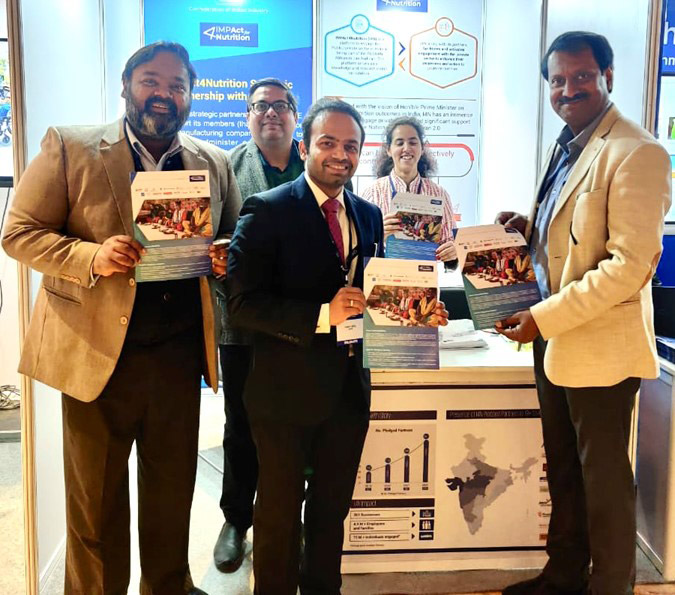 I4N EXHIBITED At CII National CSR Summit
CII National CSR Summit was held during February 2023 where CII FACE and I4N showcased its partnership. Attendees from the corporate sector were appraised about I4N and its ongoing activities including explaining the ACE card. I4N latest brochure was also released during the event by Mr Kiran DM, Former CEO ONGC Foundation and Mr Neeraj Lal, Head CSR, Arvind Limited.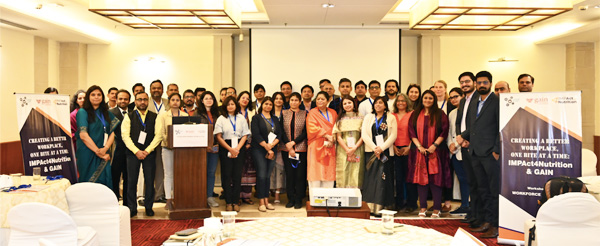 I4N Partnership with GAIN
I4N secretariat hosted a workshop in New Delhi on 15th February 2023 inviting corporate sector with the objective to sensitize them on the importance of workforce nutrition and giving them an introduction to the Workforce Nutrition Scorecard developed by Workforce Nutrition Alliance and GAIN. 41 corporate's officials joined the workshop. Microsoft, Ultimate Kronos Group, Tata Power-DDL, Bata India Ltd, Quess Corp, APL Apollo, Businessnext to name a few.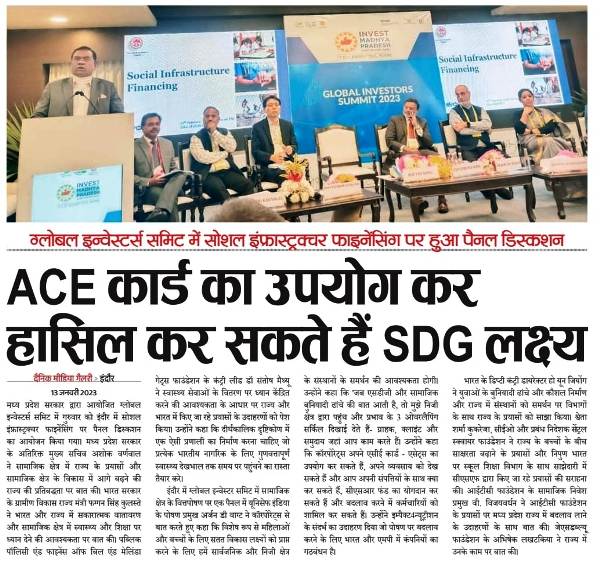 Global Investors Summit
2023, Indore
Panel discussion on financing social infrastructure took place at the Global Investors Summit in Indore, which was organised by the Madhya Pradesh government. Government of Madhya Pradesh Additional Chief Secretary Ashok Barnwal spoke on the State's initiatives in the social sector and its commitment to further social sector development. Speaking on the panel, Arjan de Wagt, Chief, Nutrition, UNICEF India, stated that the assistance of institutions from the public and private sectors is necessary to achieve sustainable development goals, especially for women and children. "When it comes to SDGs and social infrastructure, I see three overlapping circles of reach and impact by the private sector – customers, clients and communities where you work.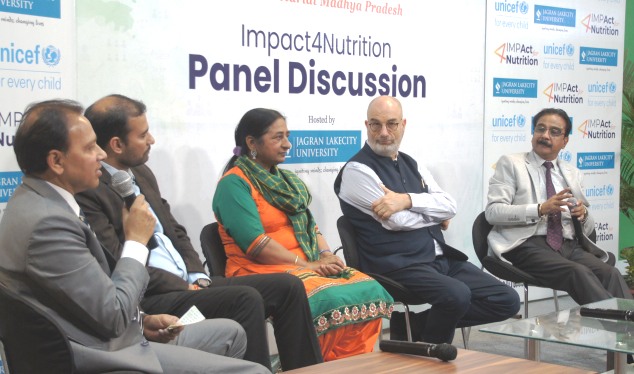 I4N Industry engagement event organized and hosted by I4N MP Secretariat housed at Jagran Lakecity University
A panel discussion was organised on 28th November 2022 by Impact4Nutrition state secretariat, Madhya Pradesh hosted by Jagran Lakecity University, Bhopal
Mr. Arjan De Wagt, Chief Nutrition Section, UNICEF India was the Chief Guest and the senior UNICEF India and state office team, MP state Government officials, Jagran Lakecity University senior leadership as well as corporate leaders, industry associations like BNI, CII, Association of All Industries Mandideep.
Madhya Pradesh is the first state in India to have its own I4N state secretariat and this is hosted by Jagran Lakecity University and supported by UNICEF and corporate bodies and business leaders. Speaking on the occasion, Dr. Sandeep Shastri, Vice Chancellor, JLU said that advocacy has a big role in promoting nutrition both for the physical but psychological well-being.
The panel discussion followed this with the key panellists being Mr.Arjan De Wagt, Chief of Nutrition, UNICEF India, Mr. Rajeev Agarwal senior member BNI and President Association of All Industries, Mandideep, Mr.Aniruddh Chouhan, Head CII, Madhya Pradesh, Ms.Rajpal Kaur, Additional Director WCD, Govt of MP. The session was moderated by Prof. Diwakar Shukla, Dean, Faculty of Journalism and Creative Studies, JLU.
Mr.Arjan emphasised on simple things and awareness about key nutrition issues and about healthy diet. He spoke about the issues of anaemia and how awareness around this can make a huge difference. He also explained to the audience the features of I4N and how ACE framework can help the private sector in contributing to overall efforts around nutrition.
Mr.Rajeev Agarwal emphasised the need for efficient monitoring and implementation of nutrition policies and initiatives on ground and evaluating it for the impact.
Ms.Rajpal Kaur shared with the audience the need for wider and deeper efforts to generate awareness and make an impact in this space.
Mr.Aniruddh Chouhan said that nutrition being a multidisciplinary subject, needs support from all segments, government, multilateral agencies, citizens, private sector and universities.
BNI handed over the pledges signed by BNI members to Mr.Arjan De Wagt and committing to work jointly with I4N in bringing change in nutrition standards of people.
I4N and Jagran Lakecity University announced the launch of a short term certificate on nutrition from next academic year.
Mr. Abhishek Mohan Gupta, Pro Chancellor Jagran Lakecity University was inducted in the national board of Impact for Nutrition.
Media persons present on the occasion interviewed Mr.Arjan De Wagt and sought his views on I4N. The event ended with the vote of thanks to all members.