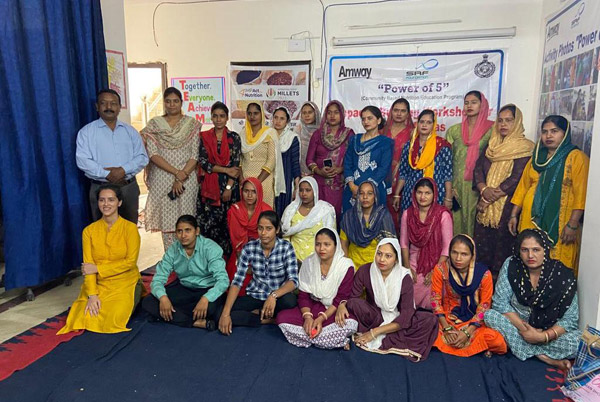 SRF
An initial nutrition dissemination session was conducted with the SRF team at their field office in Mewat, Haryana in the last week of April. The theme for discussion was the "importance of millets for healthy lifestyles". The session was conducted in the vernacular language-Hindi. The beneficiaries trained included the "Poshan Mitras" or the field staff employed by the foundation working with the children in the age group of 0-6 years. The session started with debriefing on the importance of a healthy diet. With this, emphasis was laid on the integration of millets. Simultaneously, it was explained to the audience and discussions were held along the same lines.
The audience was also briefed about the celebratory benefits of these nutri-cereals. A video display explaining the different recipes along with enhancement of their nutritional benefits was also explained.
Towards the end of the session, a recipe workshop was conducted with the participants for an engaging participation. 'Bajra salad' was prepared by the participants. The dish was relished by the audience and the nutritional benefits were also elaborated equally.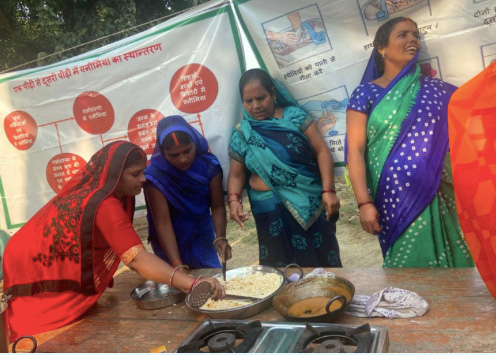 Organic India Foundation
A day training workshop was organized by I4N Secretariat (ANK Foundation) at Haripur village, Azamgarh district on 22.11.22. The focus of the workshop was on dissemination of awareness on anemia- its identification and prevention strategies. The workshop was divided in a few sections.
It entailed:
A card game
A recipe demonstration
An audio clip play
Q/A Round
The workshop was conducted with a group of 60-70 women in the age group of 18-75 years. After a small debriefing by Mrs. Jyoti Jyotsana, the workshop was started with identification symptoms of the disease in order to gauge the knowledge of the women. In the recipe demonstration, jaggery laddoos were made. Some participants were called from the women and they participated actively in the whole process.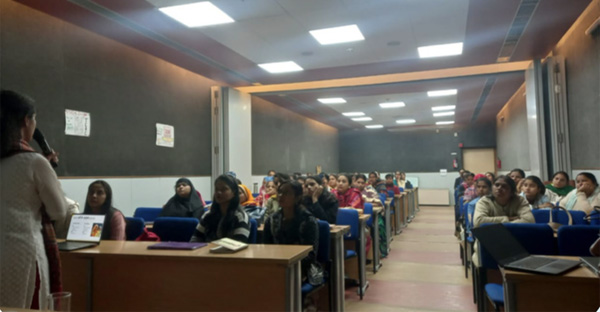 Tata Power DDL
5 Nutrition session with abha workers
A nutrition session was conducted by I4N with Tata Power DDL at Gulabi Bagh. The beneficiaries were AABHA workers. Importance of a healthy diet was discussed among the participants. As per the demand from the AABHA Workers, recipes were discussed with them for incorporation into the daily diet. The session was planned on 16.12.22.
The TOT (Training of Trainers) session was graced by dignitaries like Mr. KK Suman (Chief-SIG; Social Impact Group) and Mrs. Geetanjali (CSR Head) along with Ms. Anu (Prof. at Lady Irwin College) for the ABHA workers.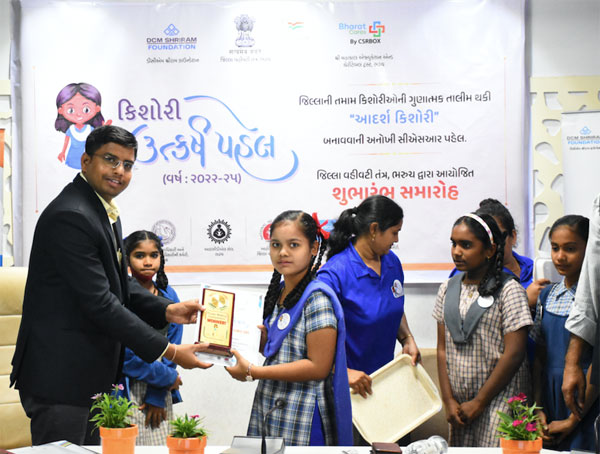 Kishori Utkarsh Pehal
National Girl Child Day was celebrated with great zeal and enthusiasm when various dignitaries from across Bharuch graced the Formal Launch Ceremony of Kishori Utkarsh Pehal organised at the Collector Office in Bharuch on the 24th of January, 2023. Shri Tushar Sumera, Hon. Collector, Collector Office, Bharuch addressed the occasion sharing his transformative vision of the project for the district through an inspirational video message.

Pehel Smart Anganwadi Centre (PNB)
Context
Anganwadi Centers (AWCs) serve as the first institutional engagement of children outside his/her home. Most of the AWCs cater to children of the lower and lower-middle-income group, who otherwise do not have access to private pre-schools or cannot afford them. Hence, AWCs have greater responsibilities to serve these children and prepare a strong educational foundation.
In order to ensure optimal benefits from education and to deliver all the following developments and competencies in the children, an Anganwadi Centre requires certain basic facilities to be provided to the children. This includes a safe and clean environment, facilities for sanitation and clean drinking water, hygienic meals and storage areas and stimulating learning material.
However, the condition of Anganwadis is not always ideal for the children for it to be their first contact with the world. The same was the case with Anganwadis around Gandhinagar, Gujarat. Wall paints had lost their luster, and rooms were poorly lit. Cracked walls, sundered doors, and lack of basic facilities, such as washroom, play grounds, and books, echoed that we were depriving our kids of a chance to succeed. The lacklustre condition of these institutions' infrastructure reflected that we were failing in giving the life of dignity to our future generations.
Objective
Pehel Foundation (CSR arm of PNB Housing Finance Ltd.) identified the need to revamp the dilapidated Angandwadis and partnered with BharatCares to improve the facilities in Anganwadis and provide technical equipment to transform them into Smart Anganwadis.
Solution Proposed
In order to have Anganwadi Centres ready with optimal learning environments for all children and to increase the ratio of child enrolment at these learning centres, the project proposed the following interventions:

Project implementation
After conducting a baseline survey, the project was implemented at 5 different locations:
Hajipur, Kalol Taluka, Gandhinagar, Gujarat Nasmed, Kalol Taluka, Gandhinagar, Gujarat
Moti Boyan, Kalol Taluka, Gandhinagar, Gujarat Santej, Kalol Taluka, Gandhingar, Guajrat Sabaspur, Near Kadi Taluka, Gandhinagar, Gujarat
Project Progress
Up until the 15th of July, the infrastructural development of the AWCs was accomplished. This included toilet renovation, waterproofing, water tank and electric motor provision, reparation and replacement of doors and windows and more.
In addition to this materials/ resources like smart TV, digital content, furniture, play toys & equipment, fire extinguishers, and learning aids were procured and added to the Anganwadis.
Outcome
As per the quarterly project report, around 180 children and 50 women have benefited through the project in the following ways:
Digitalization of Anganwadi Centres
Establishment of SMART Model Anganwadi Centres having better infrastructure, materials and resources
Safe and joyful learning environment for children
Access to clean drinking water and toilets in Anganwadi Centres
Eventually, the project had the following impacts:
Increased interest in studies among children Promotion of technology-based early childhood education in rural areas.
Increase in hygiene & sanitation practices among beneficiaries.
Malnutrition Free Hajipur
Context
Severe Acute Malnutrition (SAM) in children continues to be one of the major public health problems in India. A child suffering from SAM has a nine-times higher possibility of death before their first birthday. Malnutrition tends to affect every aspect of a child's physical and mental development. Hence, it is important to address malnutrition at the earliest in order to reduce growth delays.
Gujarat state suffers from high rates of malnutrition within its communities. Hajipur village of Kalol Taluka, Gandhinagar district has a population of 3,918 as per Census 2011. Based on this population estimate, approximately 400 children are below the age of five. Out of these 400 children, approximately 40 children are likely to be suffering from SAM.
Objective
Malnutrition-free Hajipur was a project proposed by the Niramay Charitable Trust, Gandhinagar implemented in the Hajipur village of Kalol Taluka. The project aimed at identifying and treating children suffering from malnutrition to work towards a malnutrition-free district.
Solution Proposed
The project laid emphasis on :
Screening all children up to the age of 10 to identify the prevalence of SAM.
Providing Facility Based SAM (FBSAM) management as per the Government of Gujarat guidelines for children below age 5.
Conducting a pilot test SAM management intervention for children aged 6-10.
Providing six-week community-level follow-up and distribution of dietary supplements to completely treat children suffering from severe to moderate malnutrition and progressing towards a normal weight for height category.
Implementation Process
Community meeting with Villagers and Sarpanch at Hajipur
SAM children with loss of appetite, pitting oedema or infection were treated at Bal Sewa Kendra (Child Malnutrition Treatment Center) over a span of 21 days via indoor admission. Looking at the population size of Hajipur village, the project proposed to establish Bal Poshan Kendra at Hajipur for a period of 3 months to treat ~ 60 SAM children. This was followed by community-level follow-up and distribution of dietary supplements to ensure the continuous growth of children. Furthermore, the project was carried out in phases.
Phase 1: Community level screening
A comprehensive population census of the village was conducted to identify children below the age of 10 and to get a clear understanding of the demographic information, socioeconomic details along with the family history of every child.
Phase 2: Setting up of Bal Poshan Kendra
A Bal Poshan Kendra with a holding capacity of 20 beds was set up at Hajipur for providing 21 days of inpatient care to the SAM children. This centre was headed by a paediatrician and children were offered medical consultation followed by the provision of micronutrient supplements and therapeutic feeding as advised by the paediatrician.
Outcome
At the end of the screening, a list of children suffering from SAM, MAM (Moderate Acute Malnutrition), SUW (Severe Underweight), MUW (Moderate Underweight) and Severe and moderate Stunting was prepared.
A total of 583 children were screened during this activity at Hajipur village. Out of these 60 children were above the age of 120 months and hence were excluded from the analysis.
It was observed that around 16% of children (86 children) were suffering from Severe undernutrition (SAM or SUW or both).
Similarly, 205 children (39%) children were suffering from moderate undernutrition (MAM or MUW or both).
232 out of 523 children (44%) were in the normal weight category.
Severe undernutrition was more common among boys (20%) compared to girls (12%).
Further observations concluded that undernutrition continued among school-going children and increased from 51% in the 0-5 years age group to 59% in the 6-10 years age group.
Out of the 16% (86 children) suffering from SAM, 67% of children were mobilised for treatment at the centre. Facility-based treatment of the SAM/SUW children has turned out to be the most rewarding intervention helping children tremendously, as 23 out of the 43 (54%) children moved out to MAM/MUW within three weeks of treatment.
Way Forward
Niramay trust intends on expanding these services across Gandhinagar and Gujarat, in order to help better the nutritional status of children across the state.