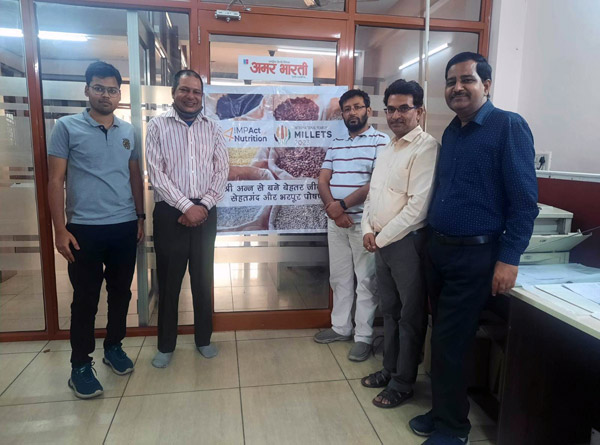 Amar Bharti – Poster on millets and its importance in diet
Amar Bharti group, joined I4N as Pledged Partner with a clear focus on encouraging its employees towards good Nutrition Practices. For the benefit of its employees, a poster on millets and its importance in diet was placed with the simple objective to raise awareness on nutrition.
Urban Company – Nutrition Awareness through their App "Cult Fitness"
Urban Company utilized their Assets, in the form of their App "Cult Fitness" where all of their channel partners are hosted and gave I4N an opportunity to interact with them.Healthy was shared on the Cult app, with technical inputs from I4N secretariat on the IYM 2023 theme.
ZSS Security: Displayed good nutrition knowledge posters
ZSS Security, one of the recent I4N pledged partner, utilized their assets by displaying good nutrition knowledge posters in their office premises. The key message was on utilization of Millets in daily life.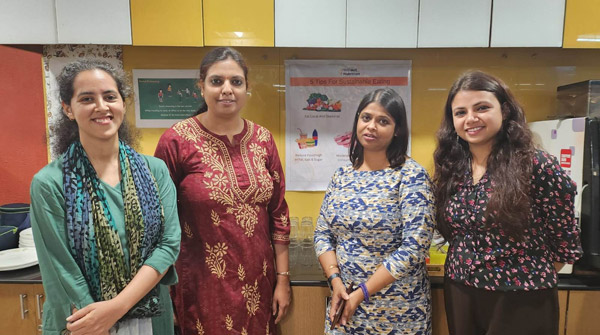 Business Next
With Business Next, the I4N team visited their office at Noida. The next proposed plan for implementation has been discussed with the team. With the scorecard at hand, the team is ready to foray into the nutrition space with I4N at its helm. The same vertical is being planned to space at their Maharashtra regions after the scorecard gets filled by the respective teams.
A for Assets-
A poster display was suggested for an immediate trigger towards the eating patterns of the employees. The poster was displayed in the canteen space for better message retention by the employees.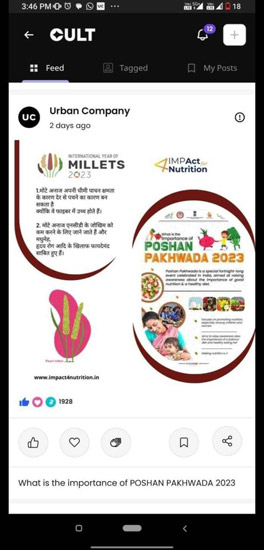 Urban Company
Urban Company, one of the recent I4N Pledged Partners, showed its strong commitment towards Workforce Nutrition by designing a calendar of activities on nutrition for its employees and 45000+ channel Partners. As a part of this engagement, Urban Company utilized their Assets, in the form of their App "Cult Fitness" where all of their channel partners are hosted and given an opportunity to interact with them through a series of workshops on topics like Elements of a balanced diet, importance of a balanced nutrition.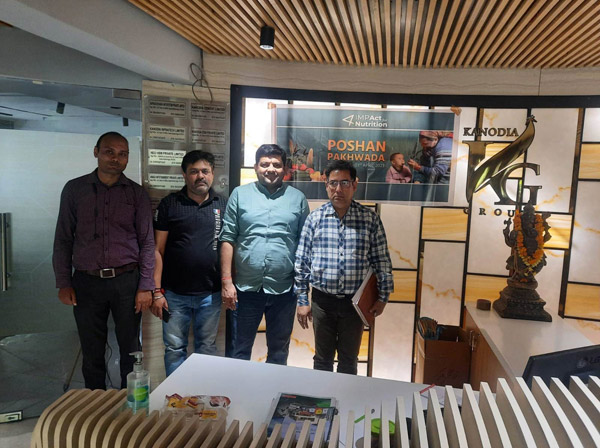 Kanodia Group
The Kanodia group also sensitized their staff through display of nutrition poster in their reception space at their Noida office. The team has been briefed about the scorecard profile and a slew of engagements are in the pipeline.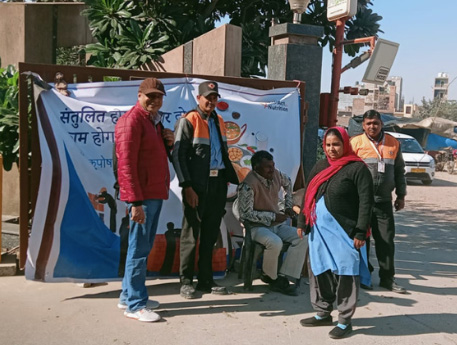 Prateek Project
Apart from taking sessions both through offline and online mediums, efforts were driven towards raising awareness on nutrition and creating mobilization through community banners and hoardings displayed at commercial /residential plots for gaining mass momentum. Signages were displayed at Prateek and Savior group project sites for maximum display and highlight.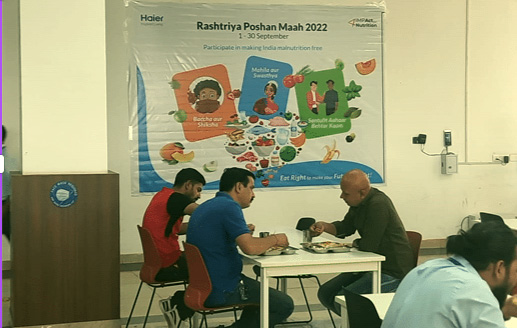 HAIER
During the Poshan Maah; I4N Secretariat (ANK Foundation) decided to sensitize the office workforce of Haier through different signage panels and display boards at common meeting areas in their office vicinity.
A fresh vigour and enthusiasm were inculcated among the masses. This paved way for more effective engagement and enhanced productivity.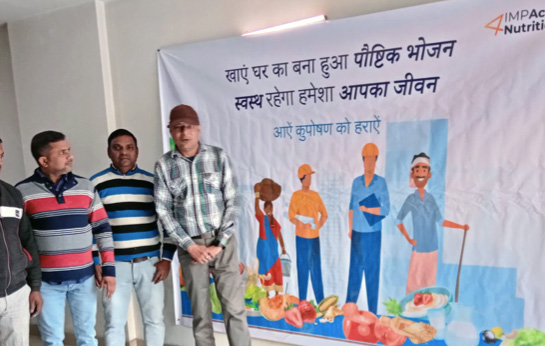 Saviour
Community banner and hoarding display by Mr. Jha and team spreading Nutrition Awareness. Saviour is emerging as an eminent real estate builder in India making a mark in delivering residential & commercial township projects in and around Delhi-NCR. The Saviour Group is one of the leading real estate developers in Delhi-NCR.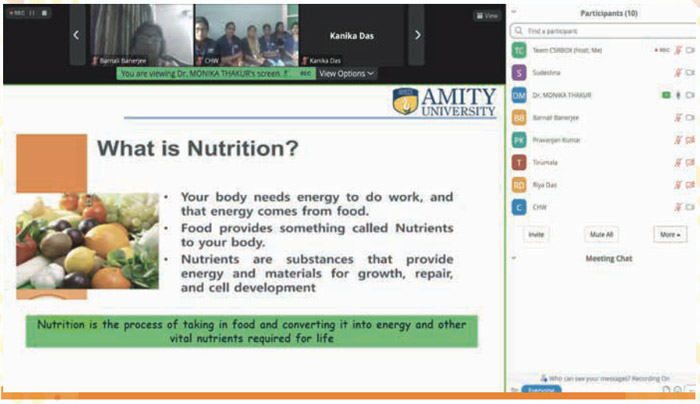 IKURE: Nutrition during Pregnancy and Lactation: Healthy Eating for mothers and babies
Context
Simply described, malnutrition refers to deficiencies, excesses, or imbalances in a person's nutritional intake; both undernutrition and overnutrition have a wide range of direct and indirect consequences in the form of ailment, disability, and infirmity. As per the Global Nutrition Report 2020, India is among the 88 countries that are likely to miss global nutrition targets by 2025.
NFHS-5 report shows that India still has 35.5% of children who are stunted and 19.3 % of children who are wasted. Despite having institutional delivery at 88.6 percent, the early initiation of breastfeeding remains low at 41.8 percent and exclusive breastfeeding at 63.7 percent. Only about 50 percent of pregnant and lactating women are enrolled in the maternity benefit scheme across states and the prevalence of anemia stood at 57 percent in the country. While on one hand, India is battling the crisis of undernutrition, and Non-Communicable Diseases on the other.
Nutrition Awareness Session
The existing scenario calls for an urgent need to innovate and reimagine an effective collaborative convergent model, by going about local interventions with a human-centered approach to fulfill the nutritional goals. The approach that needs to be adopted is social and behavior change communication targeting individuals, families, and communities in order to facilitate the adoption and sustenance of health and nutrition-related practices. IMPAct4Nutrition collaborated with Ikure Techsoft Pvt. Ltd. to conduct a nutrition awareness session with the community health workers (CHWs) on various profiles including nutrition for maternal health, anemia, nutrition for diabetics, and several others. They will subsequently disseminate nutrition information at the village, community, and household levels. The session was held on 20th of December and delivered by Dr. Monika Thakur M.Phil, Ph. D. (Life Sciences), Double Gold Medalist, Associate Professor at Amity Institute of Food Technology, Amity University, Uttar Pradesh, Noida.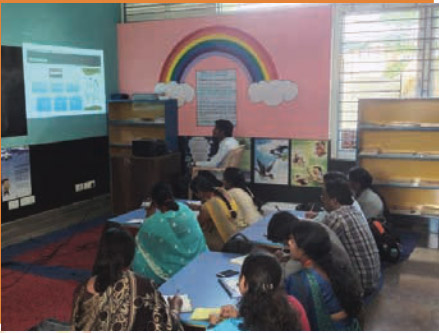 BIAL: Awareness is Empowering
Creating a cadre of Nutrition Ambassadors
Context
Around 253 million adolescents (10 to 19 years old) live in India, and we are at crossroads with them on whether to waste a generation's potential or nurture them so they may change the world. We all share a responsibility to make sure that adolescence is a time of opportunity because as teenagers thrive, so do their communities. The teenage years are a nutritionally precarious time because of the fast physical growth that raises nutrient needs. Adolescent-developed eating habits may be a factor in nutrition-related issues with long-term health effects. 40% of Indian females and 18% of Indian boys are anemic. Adolescents' growth, infection resistance, cognitive development, and productivity at work are all negatively impacted by anemia.
Health promotion from the early stages of life by fostering healthy eating practices and regular physical activity has the potential for a major impact on health and well-being during childhood and later stages in life.
Objective
IMPAct4Nutrition and Kempegowda International Airport Foundation(KIAF) collaborated to offer a Nutrition Awareness session. KIAF is the implementation arm of Bangalore International Airport Limited ( BIAL) for Corporate Social Responsibility ("CSR") & Corporate Environmental Responsibility ("CER") initiatives for the coming years.
About the Workshop
BIAL has a holistic education development initiative under which activities are categorized into two sub-components called School Adoption Program and Learning Enhancement Program. IMPAct4Nutrition conducted a Nutrition Awareness Session on 17th December for 27 teachers of a school adopted by Bangalore International Airport.
This workshop was facilitated by Ms. Kalpa Sharma. She is a public health expert. She completed her post-graduation in Public Health from the Indian Institute of Health Management & Research. Ms. Kalpa has 12+ years of experience in the field of Public Health. She worked on areas such as maternal & child health, adolescent health, Nutrition, Food fortification, family planning, water & Sanitation, etc. Her research papers on public health have been published in various international and national journals.
The workshop covered topics such as the importance of a balanced diet, the various macro- and micronutrients necessary for a healthy diet, and the symptoms and consequences of malnutrition and anemia.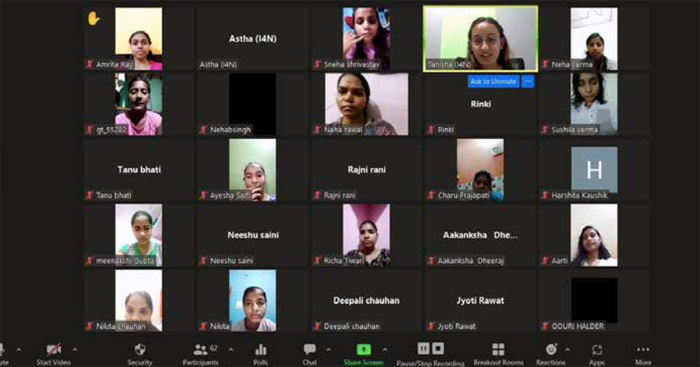 Birlasoft
Context
According to WHO, around 45% of deaths among children under 5 years of age are linked to undernutrition. These mostly occur in low- and middle-income countries.
The problem of malnutrition has grappled every other country in one or more forms making it the greatest global health challenge.
Initiatives to Tackle Malnutrition It mostly affects women, infants, children and adolescents. India too has its fair share of malnutrition creating a hindrance in achieving the Sustainable Development Goals for health. Therefore, it is important to understand the importance of a healthy diet, nutritional deficiencies, and more.
We desperately need inclusion from all the stakeholders, such as policymakers, social impact forums, media and the general public to tackle the mammoth of malnutrition. One such initiative, the POSHAN Abhiyaan program that was launched in March 2018 by the Government of India improves the nutritional status of children, adolescents, pregnant women, and lactating mothers.
To support this mission, in 2019, an initiative titled "IMPAct4Nutrition" (I4N) was convened and launched by Tata Trusts, CSRBOX, UNICEF, Sight and Life, CII, United Way Mumbai, and NASSCOM Foundation. I4N is a platform for the private sector to become actively engaged and build a social movement with their employees and their families, customers as well as anyone else who is a part of the business ecosystem, to support the Poshan Abhiyaan.
Awareness Programs for Adults
On September 23, 2022, a virtual session named 'Good nutrition and healthy diet at the workplace' was organized with more than 450 employees of Birlasoft. The session was moderated by expert speakers who aimed at educating the workforce. During the sessions, various topics regarding a healthy lifestyle were covered including the basics of nutrition for our daily dietary intake, macro & micronutrients, and how to read food labels among others.
Mantri Swathi, an employee of Birlasoft said, "I must thank the organizing partners for carrying out this initiative with the help of a doctor. The information provided regarding the quantity and quality of food we must intake and the exercises we can do at the workplace was very helpful. The various topics regarding nutrition and health were explained easily."
On September 28, 2022, another virtual session "Nutrition for Women's Health" was conducted exclusively for women. The session aimed at educating women about complications arising from lifestyle disorders and how to mitigate the challenges and problems arising out of them. It guided them in managing various lifestyle-related disorders, such as diabetes, hyperthyroidism, PCOS/PCOD, insulin resistance, and more.
A total of 70 women participated in the session and each was thankful to the speaker and partners of Impact4Nutrition and Birlasoft for organizing the same. The participants were able to clear the necessary doubts they had in a safe environment and receive satisfactory solutions to their problems.
Vijayshree, a participant in the session says, "Going forward this session will help me focus on health. Being a woman, I have faced many health challenges through different phases of life. But after listening to this session, I now have depth knowledge of nutritious foods and unhealthy lifestyles. I am very thankful to Dr. Swetha Patel for explaining the details wonderfully and I am looking forward to more in the future."
Awareness Among Children
A healthy and balanced diet is key to children's growth and development. Right nourishment in the early stages of life can help children study well, grow up healthy, contribute to their family incomes and be able to break away from the vicious cycle of poverty.
To empower children with the right knowledge of nutrition, IMPAct4Nutrition conducted an interactive session named "Nutrition for Adolescents" on October 8, 2022. 80 children from Smile Foundation, an NGO partner of Birlasoft, participated in the same. The session discussed the basics of nutrition and how minor tweaks in daily food intake can enhance nutritional value. The session contained videos to engage children and also included a quiz to help them learn in a fun manner. Healthy eating in childhood means they will have less chance of developing chronic diseases like heart disease, type 2 diabetes, obesity, and some cancers. It will also mean they feel better and enjoy life more. Today, children have a better understanding of healthy and unhealthy foods which motivates them to make better choices in the future.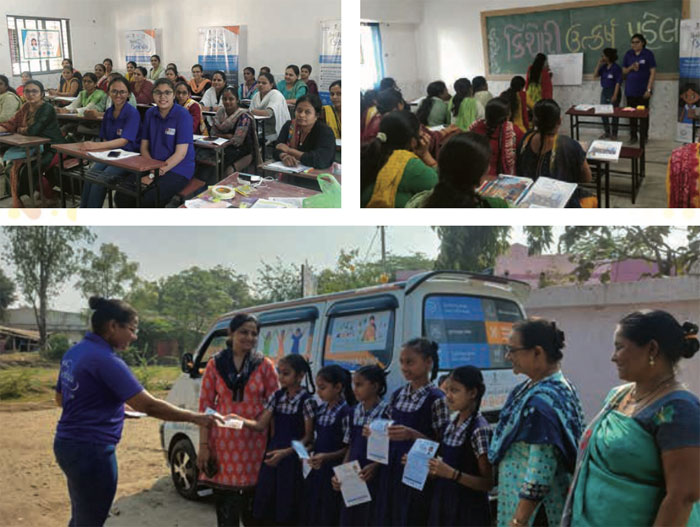 Kishori Utkarsh Pehal
A step towards making adolescent girls exhibit their inner potential
Context
India has the largest adolescent population in the world, 253 million, and every fifth person is between 10 to 19 years. These adolescents have immense potential to contribute to the social, economic, and cultural growth of India as a nation. Adolescent girls lack access to information on issues affecting their lives and have limited space to develop competencies crucial for active participation. They are exposed to multiple layers of vulnerability due to pernicious social norms affecting the value of girls, which in turn affects their ability to move freely and to make decisions affecting their work, education, marriage, and social relationships. There are a multitude of problems or barriers to the physical, mental and social growth of adolescent girls.
Objective
Kishori Utkarsh Pahel is a catalytic approach structured as an awareness and aspiration-building program among adolescent girls. The program leverages the existing village, block, and district level ecosystem of various government programs and seeks to bring synergy and coherence in addressing critical information and knowledge gaps for adolescent girls.
The program aims
To bring awareness pertaining to nutrition, health and hygiene, life-skills, rights and entitlements and government schemes.
To enhance adolescent girls' knowledge and awareness on higher education, career planning and digital literacy.To improve parental support towards the bright future of adolescent girls. To build capacity and progression ability of adolescent girls through this initiative. To improve their self-esteem through Life-Skills education. Project Implementation, Kishori Utkarsh Pahel initiative was launched on the 12th of December in Jhagadia Block of the Bharuch District. This phase-wise program is envisioned to scale at the district-level by the end of 2024-25. In its first phase of implementation the program has begun with building and institutionalising a cadre of teachers for knowledge dissemination, peer education and creating a systemic support for all adolescent. girls. The teacher training workshop was conducted with over 90 teachers over a span of 4 days starting December 12, 2022, with the help of an interactive audio-visual format, participatory activities and more. The future phases of the program will include exposure visits and capacity-building activities and more. Kishori Utkarsh Pahel focusses on imparting knowledge to adolescent girls between 10-19 years of age. Expected Outcome
Adolescent interventions must focus on building capacities and creating awareness about access to information and services to deal with adolescent problems. In addition they need to also contribute towards creating local leadership and build aspirations for future generations to create momentum for the active participation of girls in social, economic, and political spheres.
The 'Kishori Utkarsh Pahel' program hinges on leveraging the cadre of Jagrut Kishoris at the village and the block levels to institutionalise the cadre and use the power of network and local leadership for peer education, knowledge dissemination and build a systemic support for all the adolescent girls.
Adani Foundation
Context
The outbreak of coronavirus has made the whole world realise the importance of kitchen health and hygiene, making it one of the biggest priorities. We can see a shift in the mindset of people as they have started preferring more hygienic and tasty food than unhealthy and tasty food. Hygiene being one of the most crucial ingredients in the food safety recipe of every professional kitchen, if neglected, can cause serious health issues. If you are careless enough to clean your kitchen environment, this means you are inviting unwanted germs and bacteria leading to food poisoning and other diseases.
Training of SHGs at Adani Foundation
Adani Foundation understands the importance of capacity building to equip their team with the required knowledge to ensure quality and generate higher impact. With this objective, a Self-help group of 9 members was trained on 14th September 2022 at Hazira Unit, Surat. The training sessions focused on hygiene and sanitation measures to be taken at the kitchen level at various points of food production i.e., procurement, storage, cleaning, cooking, holding the cooked foods, serving and disposal. Personal hygiene and cleaning of kitchen surfaces and utensils were also discussed during the session.
Even our Governement realises the importance of kitchen hygeine as in Sep 2019, the Food Safety and Standards Authority of India (FSSAI) issued a mandatory rule for restaurants and hotels to get hygiene ratings. These audits and ratings are given by certified food inspectors. I4N is a knowledge and collaboration centre on nutrition and provides a business link to the larger social movement around POSHAN Abhiyaan Jan Andolan where the Government of India (GoI) has recognized the private sector as a major driver and enabler for impactful change within its ecosystem. The second half of the training covered the importance of the inclusion of various food groups to plan nutritious meals which can be cost-effective. Healthy cooking methods were also covered in the training. The session was conducted in Hindi and Gujarati by Ms Shweta Patel, who is the Assistant Professor at Department of Foods and Nutrition, The Faculty of Family and Community Sciences at The Maharaja Sayajirao University of Baroda. She has over 11 years of experience in research and teaching. She has been conducting training and nutrition health education sessions for different beneficiary groups.
Awareness on Anaemia
According to the World Health Organisation, more than one-third of all women and children below the age of 5 years are suffering from Anaemia – a disease in which the number of red blood cells and the concentration of haemoglobin is reduced. There may also be a presence of abnormal haemoglobin. Therefore, to avoid such circumstances in future, there is a desperate need to spread awareness on this issue.
Training-of-the-Trainers (TOT)
As part of the POSHAN Maah celebrations, IMPAct4Nutrition conducted a Training-of-the-Trainers (TOT) session with Adani Foundation (Hazira Unit) on Anaemia Management. The session covered key aspects of Anaemia Management, such as the causes of anaemia, signs and symptoms of anaemia, prevention and control of anaemia, and the intergenerational cycle of anaemia.
IMPAct4Nutrition conducted a Training-of-the-Trainers (TOT) session with Adani Foundation.
The session was organized with 40 participants, that included the CSR personnel and school teachers who further disseminated this information to the children beneficiaries and the catchment communities.